OSS Assessment
---
Background: In World War II the Office of Strategic Services (predecessor of the CIA) was assigned the task of selecting agents for a variety of espionage jobs. The task was a very difficult assessment problem and they developed a number of creative approaches. Candidates for the OSS were brought to an assessment center (Station S) and put through a variety of individual and team tasks.
---
The Brook Situation
A group of candidates were asked to cross a 15 foot wide stream (imagined to be a canyon) carrying a log (imagined to be a delicate piece of equipment) and return with a rock (imagined to be explosives) and all parties. They were not permitted to jump but were asked to solve the problem as a group. They were given 10 minutes to generate a plan. No one was named the leader so there was opportunity to take leadership. Psychologists observed features such as: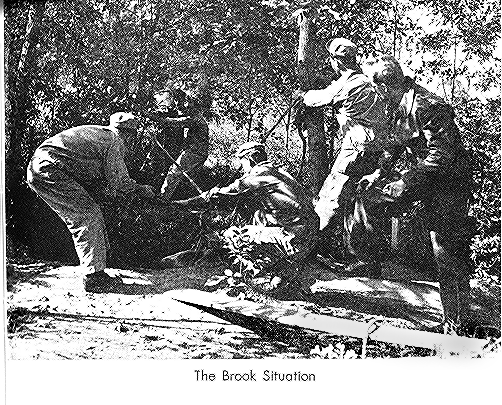 number of suggestions offered,
working with the group,
volunteering for unpleasant tasks,
insight into the problems,
evaluation of proposed suggestions,
tact in responding to suggestions,
sense of humor,
guiding of others to a solution,
organizing the workers into a team,
combining ideas from others,
etc.
---
Murphy, K. & Davidshofer, C. (1998). Psychological testing: Principles and applications, 4th Ed., Upper Saddle River, NJ: Prentice Hall.
OSS Assessment Staff. (1948). Assessment of men: Selection of personnel for the Office of Strategic Services. NY: Rinehart & Co.

---
OSS Assessment Page | Psychology Whimsies
---
Contact the author with comments or questions about this site by following the directions at this page (which will open in a new window.)
All contents © since 1996 by Sally Kuhlenschmidt. Copy only with permission.
Website created: June 1996. Page Created: March, 1999. Last Modified: August 21, 1999.