St. Dymphna
---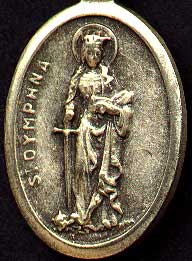 St. Dymphna (or Dympna or Dimpna) is the patron saint of the mentally ill and those with nervous disorders, according to the Catholic Church. Her life story was first recorded in the 1200s based on an oral tradition reported as happening in the 600s. It may be just an elaboration of a common legend.
Her father was a pagan and a (possibly) Irish king or warlord, named Damon in some stories. Her mother was very beautiful and a Christian. Dymphna was secretly baptized.
According to the legend, when her mother died, her father sought in vain for a wife that could compare to her. Either he or his advisors conceived of the idea of having Dymphna, a teenager, marry her father. (Damon is described in some stories as maddened by his grief). Realizing she couldn't fend him off forever, she fled the country chaperoned by the priest, Gerebernus ( or Gerebran) and possibly the court jester and his wife.
They settled near Antwerp in the village of Gheel, near the chapel of St. Martin of Tours. Her father found her there by tracing her spending of foreign money. He (or his men) decapitated the priest, possibly after the priest rebuked him, and repeated his demands. When she refused, he cut off her head. She was buried in or near Gheel.
Later, 5 "lunatics", left to wander the countryside as there were no treatments, slept at the spot where she was killed. They awoke cured of their disorders. Other miraculous cures were reported throughout the centuries.
A shrine or church was erected and people in the nearby town of Gheel, (province of Antwerp) Belgium, began to welcome those with mental disorders into their homes. The community became the therapy (also known as moral therapy). That community is still devoted to helping those with mental illness. As many as 2,000 patients live with families and work on everyday tasks until they are well. The original church burned in 1489 and was rebuilt in 1532.
The image is made from the St. Dymphna medal. Her feast day is May 15 and she is typically pictured with a devil in chains at her feet and a sword in her hand. Two shrines are maintained in the United States. One is at: St. Dymphna Devotion, Franciscan Fathers, P.O. Box 598, Mount Vernon, NY 10550-53
The second is the National Shrine St. Dymphna, 3000 Eric Street South/P.O. Box 4, Massillon, OH 44648-0004 (http://www.nationalsh.qpg.com/)
Further information:
Catholic Encyclopedia entry (http://www.madnation.org/Heroine.htm)
---
---
Contact the author with comments or questions about this site by following the directions at this page (which will open in a new window.)
All contents © since 1996 by Sally Kuhlenschmidt. Copy only with permission.
Website created: June 1996. Page Created: c1997; Last Modified: September 18, 2000.