Changing Borders:
Letting Technology Enhance Our Experience of Teaching
Sally Kuhlenschmidt
August 4, 2001
For the
Minnesota State Colleges & Universities
Bloomington, MN
---
Dear Participants,
I enjoyed spending the week with you at your conference. I have updated this site to reflect our activities. Look for links to supplemental materials. Please let me know of any corrections or confusing parts.
If you want a copy of my break time quote Powerpoint right click on the following file name and download it. You have permission to use it for instructional purposes but I retain all rights to the organization and to my photographs of the Japanese garden. I don't, of course, own the original quotes so if you alter the order and layout with images then you may do with them as you wish. Here is the file: borderquotes.ppt
I reformatted my presentation into a layout easier to print out. It follows.
Some asked about where I obtained the clipart. I frequently use the clip art available on the Powerpoint website. I modify it using the tools within Powerpoint. (See local tech support for help with that).
You need to be on a computer with an on-line connection open.

In Powerpoint be in slide view and click inside a slide to activate the following options.

In the menu bar select Insert.... Picture...ClipArt...a new box opens and look for "Clips Online" or something similar. (It varies a bit depending on version.) Click on it.

Your web browser should automatically open and take you to the Microsoft Powerpoint clipart search site. (You'll probably have to read and agree to a copyright policy the first time you use it.)
Use the search tool to find a few clips you like and check them (Don't pick too many at a time or your download time will be long. I may do about 10 or 15.)
When you are ready select the download option and a box will pop up. **Notice where on your hard drive you are saving them. I create a directory under the c drive called Download and a subdirectory called Powerpoint clip art. The file name will be strange-- don't change it.
When the download is finished, go to the directory and doubleclick on the file and Powerpoint will automatically grab the clip art and put it in your clip art folder that opens when you choose that option within Powerpoint.
Finally, Diane Hill, adjunct faculty at Riverland Community College, gave me a sketch based on my talk and also permission to share it with you. I thought you'd enjoy seeing it: dianehill.jpg
---
It is better to know some of the questions than all the answers. --J. Thurber.
What are the most significant issues for instruction and technology in higher education?
What is our current status?

Why deal with technology?

When/how to integrate technology and instruction?
What is technology?
Audience contributions
A disciplined approach

Something you plug into the wall
An easier faster way that takes more money and time.
Evolving concept! From 16 mm to an interactive screen. Anyplace/anywhere/anytime.
Always human made.
A tool to help us survive.
Computer
Telephone, fax, photocopier
Personal Digital Assistant (Palm Pilot, Visor)
Camera
TV/VCR
GPS locator
Overhead
Graphing calculator
Laser Disc player
DVD
Chalkboard-smartboard
Software/programming or most of above are useless.
Electricity!
Current Status: Wilson 2001
Why deal with technology?
Audience contributions:
Easy editing!

Powerpoint is better than my bad handwriting.
Extending the classroom.
Because we have to compete for students' attention with TV and Nintendo. We have to have outstanding production values.
Asynchronicity extends the classroom.
All the benefits-- love it, it is visual and a great classroom aid.
Allows connections with people.
The Internet is the only way to get the latest information on some course material.
Breaks down time constraints-- students can revisit material to learn it.
Students need the technology.
Handouts can be placed on-line.
My additional thoughts, first goals to move toward:
And dangers to avoid:
Economics of Technology and Higher Education
First, tech doesn't save money-- costs in maintenance, updating, and the learning curve. Maybe someday, but not now.

However, tech might preserve market share and job options. How?

The Internet connects people. That is what makes it powerful. If it were merely a publishing medium, it may well be nor more influential than the 16mm projector. But it connects people and people most want other people.
It evaporates borders. The protected markets (fiefdoms) higher education has had since the middle ages are gone.
Students now have choices about which school they attend, which version of each class they take. They don't have to take yours. They can shop around for the one that best meets their needs. Power relationships are flattened by the Internet. This changes the teacher role away from expert and authority to facilitator and information management expert.
The Internet introduces national competition to higher education in a way never before encountered.
So, how does one prepare? When traveling you have 3 main tasks to accomplish, 3 arenas in which to prepare. (This is a simplified notion, you may want to add spiritual or social tasks to the list.)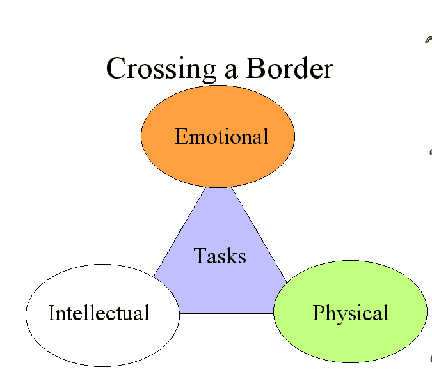 Personal Example

As a child I had to travel with my family on a summer trip. We stopped at Lake Itasca, the headwaters of the Mississippi on the way and I posed for the usual photo. I was very familiar with the power of the Mississippi and major rivers. I grew up in the Ohio River valley. I had visited New Orleans and saw how huge the Mississippi was there. I had heard of the 37 flood and experienced some flooding in my lifetime.
As I stood there and looked down at the tiny rivulets beneath my feet, I marveled that something so small could become something so huge and I realized that the same could happen to me. I might be "just a child" but that didn't mean I would be one forever. I realized I had potential to become an adult-- my "borders" of self expanded.
In order to understand this-to make this journey-I had to have the physical ability to walk out on the rocks, the emotional preparedness to accept this potential, and the intellectual ability to think abstractly about myself. These same 3 general skills are needed for any growth experience, including learning about technology.
Thinking of the how the river grows from a small beginning may also encourage you that starting small with technology and adding a bit at a time is the way to learn it.
Instruction/Technology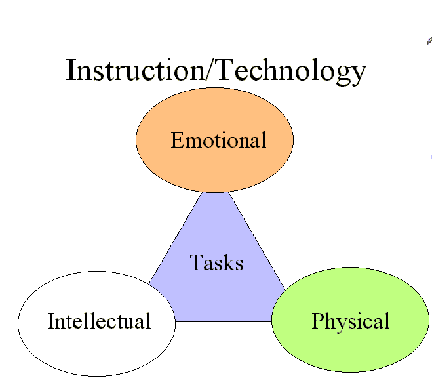 Emotional Borders:
Understanding Assumptions
Intellectual Borders: Planning for Success
How to identify effective/useful technologies?

Scholarship of Teaching & Learning Model
Scholarship Of Teaching & Learning (SOTL)
Scholarship Assessed (Glassick, Huber, Maeroff, 1997)
My extension of SOTL

Being Scholarly with Technology
Handout:
Focus on a single, specific instructional activity.

Complete specific portion of handout.

Can choose to use nontech activity
A technician is a man who understands everything about his job except its ultimate purpose and its place in the order of the universe. --Sir Richard Livingston.
1. Clear Goals
#1guideline = goals for student learning
Goals help you save your time in learning tech
Know what to NOT do.

Reduces Information Overload
Death of Expertise -- when anyone can go on-line and obtain a variety of opinions about your content, you cannot keep ahead. Redefine your role as facilitator and you don't have to be the expert (which is impossible) and you can do what is more likely to enhance student learning.

Balance tech use with your other needs --For example, if you have an ill family member, this isn't the time to create an on-line course.
Be honest about your motivations and save your time and energy. Your strategy for technology should reflect your genuine goals. For example, if your goal is to have fun... don't confuse your "fun" time with your "technology for learning" time.
Some Goals I have heard from faculty
To learn it before it 'gets' them

To enhance student learning

Because everybody else is doing it.

To get the Dean off my back

To know more than others.
If your goal is to get the Dean off your back, then pick a technology that will last a long time and doesn't require maintenance.
Failing to prepare is preparing to fail.
--John Wood.
2. Adequate Preparation
Human beings, who are almost unique in having the ability to learn from the experience of others, are also remarkable for their apparent disinclination to do so.
-- Douglas Adams, Last Chance to See.
3. Appropriate Methods
Technology which connects is successful technology.
--Source unknown.
4. Effective Presentation
Interaction with/among students.

With regard to on-line courses faculty often wonder about the "loss" of eye contact.
Connection is possible without being face-to-face.

We have long sustained relationship without being face-to-face. Love letters, for example. Have you ever wept when reading great literature? Shakespeare or Hemingway
Visually impaired faculty/students manage to teach and learn without eye contact.
Text can communicate nonverbally, although you have to practice to pick it up. Students display patterns in their text communication and you begin to pick up on deviations around their normal patterns.
You "hear" their voice when reading their messages. (contributed by audience).
Eye contact may not be all that trustworthy. Students are well practiced at appearing attentive when their minds wander. (Think of your last faculty meeting-- perhaps you can do it as well?). Furthermore, a person may be led by visual information (e.g., skin color) to behave in a prejudicial manner toward a student.

Another common question is how do you know the identity of students in an on-line class? There are several considerations...

How do you know who your students are in your face-to-face class? Most of us don't check id's as a matter of trust or practicality-- why treat on-line differently?
For most courses at most schools, it is unlikely a student would be sufficiently motivated to pay someone to replace themselves in what is likely to be a more intensely involving course requiring repeated postings....and pay tuition (contributed by audience member).
You could obtain a writing sample early on against which to judge later products if suspicious (contributed by audience member)
It is more likely that an on-line teacher will require a real-world project as a major course component because the typical on-line student is a nontraditional student who is more interested in such tasks. These are harder to fake if well constructed. This is the same kind of plagiarism control you can exercise in a face-to-face class.
Businesses, such as banks, are very interested in verifying identity and are working on a number of technologies to confirm identity. Some (such as finger print readers) are already available in the market, if not yet in most schools. These are more likely to be first used in high stakes programs/schools where the financial payoffs make paying for substitutes more attractive.
Even if you are on the right track you will get run over if you just sit there.
–Will Rogers.
5. Significant Results
Return to your goals- accomplished?
Everyone thinks of changing the world, but no one thinks of changing himself.
--Tolstoy.
6. Critical Reflection
Personal Review

Patton's process-oriented evaluation
Physical Skills
Be healthy

Your body needs to move.
Examine your work station (For example, your keyboard should slant away from you so your wrists are not bent either up/down or left/right. Put a little box under the front edge to tilt it backward.)

Bifocals cause problems for adults (coordinating mouse action with screen activity). They may not realize it and blame themselves for having difficulty with computing.
One more positive note: your generation, between seniors who did not live their lives with tech and the youngest who have lived with it for their entire memories, will always know there is another way to do things. You will always be more flexible.
Every job is a self-portrait of the individual who did it.
--Carolyn Coats, 1994.
PTR/Post Tenure Evaluation
Following SOTL prepares you.
Motivation for tech: Current Status

Individual (metaphors).

Guide for intellect: SOTL model

Goals,

Preparation,
Selecting methods,
Presentation,
Results,
Reflection
Rethinking teaching is one consequence of working with technology, whether you use the technology or not.
Computers are useless. They can only give you answers.
--Pablo Picasso.
Revisit your "issues" letters: Have your ideas changed? Deepened? Questions will remain. This is a huge influence on our lives that cannot be answered quickly or easily. But finding the questions helps to address the changes.
If you're looking to find the key to the Universe, I have some bad news and some good news.
The bad news is - there is no key to the Universe.
The good news is - the universe has been left unlocked.
---
---
Contact the author with comments or questions about this site by following the directions at this page (which will open in a new window.)
All contents © since 1996 by Sally Kuhlenschmidt. Copy only with permission.
Website created: June 1996. Page Created: July 28, 2001. Last Modified: August 5, 2001.