One Theme at a Time:

Two Critical Languages to Learn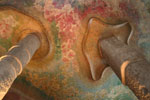 Episode 3: February 20th, 2006

Two Critical Languages to Learn is the third episode of "One Theme at a Time". In this episode we talk about President Bush's National Security Language Initiative to promote the study of less commonly taught languages, in our case Chinese and Russian. We spoke with professors Laura McGee, Haiwang Yan, and Charlie Pickle about critical languages in the Twenty first century and how Chinese and Russian are two languages more popular to learn than we cold have imagine.
Host: Melissa Stewart
Podcast producer: Inma Pertusa
(You will need QuickTime to listen to the podcast file here)
You can also listen to the MP3 file of Episode 3

Last Episode of One Theme at a Time
Please, feel free to write to us with your comments on this podcast or suggestions on future topics for the episodes.

Subscribe to One Theme at a Time to receive our episodes when they are ready.