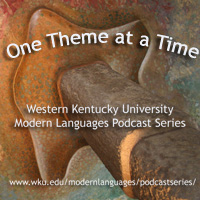 Episode 14: Sports Abroad
Episode 13: News from Abroad
Episode 12: Happy Birthday to you too!
Episode 11: Outstanding Students
Episode 10: A World Outside your World
Episode 9: BG International Festival 06
Episode 8: Stories of the Summer
Episode 7: Class of 2006
Episode 6: Pardon my French!
Episode 5: Foreign Languages go to Hollywood
Episode 4: A festival of Languages
Episode 3: Two Critical Languages to Learn
Episode 2: Winter Term Abroad
Episode 1: Christmas in January
Please, feel free to write to us with your comments on this podcast or suggestions on future topics for the episodes.

Subscribe to One Theme at a Time to receive our episodes when they are ready.
The World Languages Podcaster
Impresiones de España (in Spanish)
Tu voz (in Spanish)