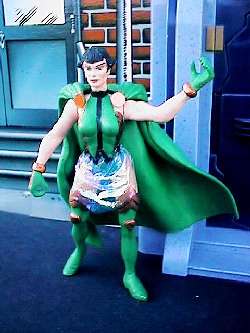 Tomorrow Woman has been one of my favorite additions by Grant Morrison to the JLA mythos (and that's a real compliment considering all he's done with the book). Although she's only appeared a handful of times, I think she's really captured the attention of the JLAudience.

I had already dremelled down Black Cat's furry legs and arms and ripped off her hair in preparation for making a Borg Queen (an idea courtsey of Ian McLean, who has some wonderful Andorian and Animated Trek customs -- check 'em out), but before I could do any more work on her, Playmates announced their release of a reasonably priced 5" Borg Queen. So this base figure sat around for a while. I thought about turning her into a TJ-style Wonder Woman (and I even once sculpted a bustier on her), but in the end I went another direction with the Amazon Princess.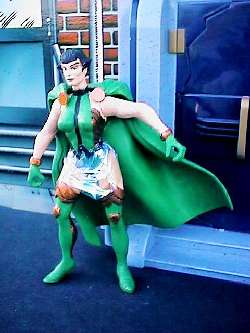 All things considered, I don't really consider this figure done -- just at a standstill. I still have a few fixes here and there I want to take care of (including one day re-doing the skirt), but until I figure out how to do those things, she'll be on the shelf with my other customs.
Parts Used:
| | |
| --- | --- |
| Base figure: | Black Cat |
| Hair, glove & boot cuffs, and kneepads: | Sculpey |
| Cape: | TJ Superman cape and cut plastic |
| Skirt: | Irrodescent plastic |
Links in this table will connect you to customs made from other parts of same figure.
---
Featured at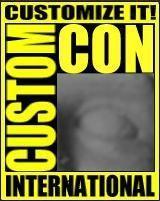 Custom Toy Fair 1999