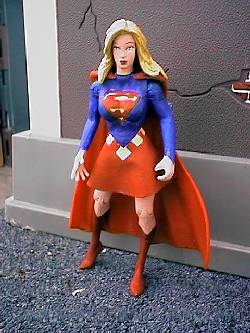 Supergirl is a figure I've had planned for a long time. Over a year in the making, in fact. Ever since Peter David turned her into a firey angel, I decided that the Deathbird body I'd already seen used for Supergirl customs by others would be perfect for a figure with both a cape and firey wings. She was actually one of the first super hero customs I attempted, and she was my very first use of sculpey, although at that point I was sculpting hair instead of breasts (which I'll get to in a minute).

I was very nervous about baking a figure, but I tried it anyway. I'd gotten much advice telling me how to bake sculpey -- warning me to use a lower-than-recommended tempature, use several short exposures in the oven, and even wrap her in water and aluminium foil (which I couldn't bring myself to do for fear she'd cook like a baked potato). I checked on her frequently, but in the end, she shrivelled up like a tiny mutant freak with stubby fingers and a swayed back (and I've since swore off curing sculpey in the oven).

But as luck would have it, that was probably the best thing that happened to my Supergirl. It took me a while to buy another base figure, and by that point I'd made several other customs. I'd already learned that I'm not the best when it comes to sculpting hair, so I looked for a figure with similar hair. And I finally found an ideal hair-base: a TJ Huntress.
At first I was just going to use the hair, but in the end decided to use the whole head (and sanding down her mask was a bitch, let me tell you). Because the Huntress neckpeg was longer than Deathbird's, I had to sculpt a bit around the peg to fill in the missing parts (but I saved some articulation -- a very important feature for me when customizing).
Once I had the head in place, I realized another problem -- Deathbird's breasts were too small. Or, more precisely, her cleavage was too deep. Because of the S-shield on her chest, Supergirl's costume is most always drawn stretched across her so the S doesn't distort, and leaving very little indentation between her breasts. That's been one complaint I've had about so many other Supergirl customs I've seen. So I gave her a sculpey augmentation, which I boiled to cure.
Even though she didn't have a skirt yet, I went ahead and painted her. Mostly I wanted to see if the breasts would look natural, as well as if I'd gotten all the lines off her mask. Sometimes painting a figure is the only way I can see if I still have major flaws which need sanding away. And yes, I painted the S-shield on her chest by hand, thank you very much. The one on the back of her cape was already there.
The next obstacle was her skirt. My original plan was to use Crayola Model Magic, but I knew that I wanted to retain articuation in her legs, and I feared that if I tried to sculpt a skirt then it would just break if her legs were bent the wrong way. Chip suggested a toothpaste tube, a material we'd seen Ron Kenyon use before for a cape. As luck would have it we had just finished a tube, so I cut it open, cleaned it out (although it still smells minty-fresh :-), and traced an outline using Typhoid Mary's skirt as a pattern. It worked perfectly, and I was able to shape just how I wanted. Yeah!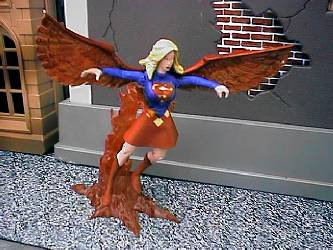 I had earlier cut the figure's wings off very carefully, keeping the peg that held them together. I inserted a thumbtack into the opposite side of the peg to keep the wings from falling apart. Then, I painted them solid yellow, followed by drybrushed red, and then a wash of clear red. I left the pegs on the backs of her arms so that I can attach the wings to her.
I'm very happy with the outcome, and I'm even happier that I had all the trouble I did last year, because if I hadn't, she would never have turned out as nicely as she did.

Parts Used:
| | |
| --- | --- |
| Body & wings: | Ninja Deathbird |
| Head: | Huntress |
| Breasts: | Sculpey |
| Skirt: | Aquafresh Sensitive toothpaste tube |
| Cape: | Hunter/Prey Superman |
| Flames: | X-Man |
Links in this table will connect you to customs made from other parts of same figure.
---