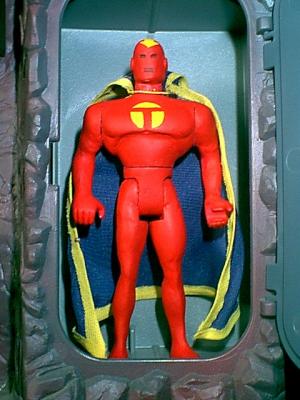 A Red Tornado figure was one of the first customs I did, and I wasn't sure that I wanted to make another. Yeah, this one would be in the animated style, but I've done that.

Well, two things changed my mind: having just completed Young Justice, the team which Red Tornado supervises; and finding a "Tornado Action" Batman (I'm not sure what his real name is, but "tornado action" seems to work). This base figure was one of many "Too Many Straps" Batman figures out there, but his action was TOO perfect for a Red Tornado. The big problem was that he's got straps-n-crap all over his body.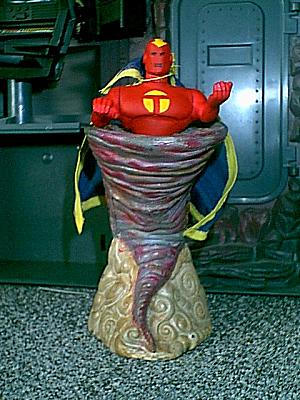 I worked with this figure under a dremel for a long time. I had to sand down the legs, boots, arms and stomach. I knew I wanted to use an Iron Man head (thanks, Ian, for supplying it), but swapping heads on this figure would prove more difficult than usual. The head seems attached to the legs somehow on the inside, and I didn't dare do anything that would interfere the tornado action. To make things more difficult, I wanted to save this Batman face -- it had a unique expression on it that might be useful later. So I had to remove the Batman head in a strange way, and then I shaped the remaining stump into a new neck for the newly decapitated Iron Man head.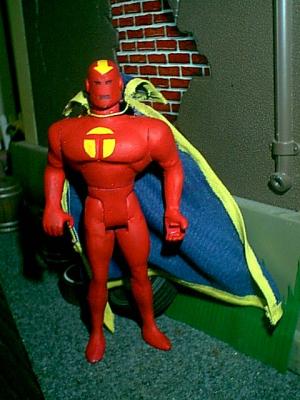 Finally, I filled in a few grooves in Iron Man's head with contour putty and I made ear-thingies using plumber's putty. Then I painted him with about 1,004 coats of red paint before filling in the yellow details.
His cape was made from wire, fabric and yellow bias tape.
His tornado was actually made for my other Red Tornado, and you can read about it's creation there.
Although he still retains his "tornado action," he's not quite as loose as before I started working on him. Go figure.

Parts Used:
| | |
| --- | --- |
| Base figure: | Tornado Action Batman |
| Head: | Some Iron Man |
| Cape: | Wire, cloth & bias tape |
| Tornado: | McDonald's Hercules Happy Meal Tornado |
Links in this table will connect you to customs made from other parts of same figure.
---
See Also: Young Justice