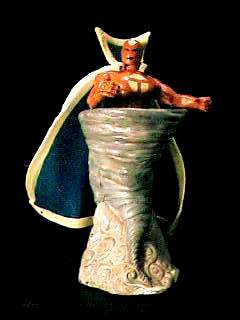 When I saw the Red Tornado in the JLA 80-Page Giant, I noticed a similarity to some Iron Man in the local loose action figure bin at my comic shop. I decided the match was too perfect not to try. But I didn't want to just make a figure... I wanted to make a tornado, which meant I had to put this idea on the back burner.

Well, not very far back, as luck would have it. The same day we found the base for the Acrobatic Robin Toy, we found this plastic snap-apart Tornado in the very same dollar bin. Came from a Hercules Happy Meal, I believe. So my tornado came sooner rather than later, and I decided to go ahead with the figure.

I filled a few lines in Iron Man with contour putty, and I sanded and cut several other details off to make him as smooth as possible. Then, I painted him. Simple, eh?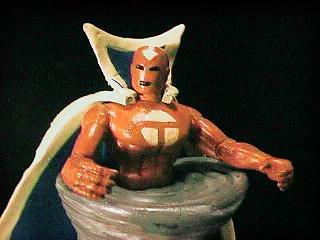 Well, the tornado proved to be more difficult. Fortunately, Iron Man was the right size to fit inside it (after carving a hole in the top for his waist), but the tornado had a face and ears made of twin cyclones coming from behind him. I cut those off, built an armature from twist-ties and tape, and resculpted the missing parts with Crayola Model Magic. I had to fuss with it a bit, but after painting, I thought it turned out rather nice.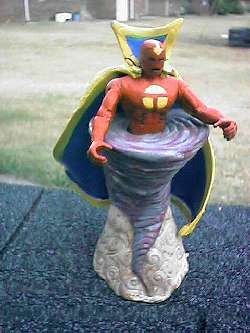 The cape is one I was making from a Doctor Strange for my upcoming Martian Manhunter, but since this guy got finished first, then he gets to wear it. The rest of Dr. Strange went into Zauriel and Firestorm.
One note: The Red Tornado can be removed from his tornado, but when painting, I put a rubber band around the base to hold the two parts together tight, and the extra sculpting I had to do was much less noticeable that way. I ended up painting right over the rubber band. So I probably won't be taking it apart anytime soon. He looks better in his base, anyway, and I don't have to worry about standing him up, especially since all that time he's spent inside the tornado has made him somewhat bow-legged.
Parts Used:
| | |
| --- | --- |
| Base figure: | Some Iron Man |
| Cape: | Dr. Strange |
| Tornado: | McDonald's Hercules happy meal toy, twist ties and Model Magic |
Links in this table will connect you to customs made from other parts of same figure.
---