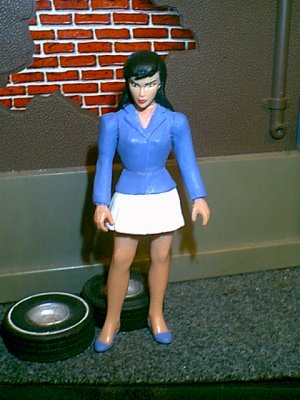 THE LOIS LANE BASE FIGURE CONTEST
The winner has been chosen and notified, and another page with Lois' full recipe is now online.
---
In celebration of TotalCustomWorld's first anniversary, we're having a contest.
The winner will receive a 5" animated Batman, small body style.
Simply figure out what base figure or parts were used to make this custom Lois Lane figure. Send your guess under the subject heading "Lois Lane Contest." I don't expect it'll be too difficult, but you never know.
The contest winner will receive, at no cost, the grand prize, a 5" animated Batman, small body style.
THE RULES
Yeah, I'm gonna have rules, and I'm going to try to make them as clear to understand as possible.
Since I DEFINITELY understand that not everyone checks their e-mail everyday and at the same time, I'll be accepting entries until 8am CDT, Monday July 10. The winner will be chosen from all correct entries received by that time, and announced that afternoon.
If there are no correct entries, then the winner will be chosen from a pool of those who were partially correct. If no one correctly guesses, I'll be pretty excited, and the winner will be chosen from all entries.
All entries should be sent to davy.stone@wku.edu, and they should include "Lois Lane Contest" as the subject heading.
As in Jeopardy, spelling doesn't count as long as you don't add or miss a syllable. If so, then your guess will be counted as partially correct for the purposes of the rules.
Be specific when naming the base or part. For example, if the contest were for our recent Hal Jordan custom, the answer "Capture Net Superman" would be most preferred, while the answer of "Superman" would be considered if no more specific entries are received.
Anyone who has been to my house since March 2000 can not enter the contest.
Once the contest is over, all entry e-mails will be destroyed. TotalCustomWorld will do NOTHING with the addresses received, and will send you nothing, unless you ask to be notified of future updates (I still will automatically notify the Customizing Listserv of all updates).
That's all I can think of. If you have any questions, just ask.
Parts Used:
?
Links in this table will connect you to customs made from other parts of same figure.
---