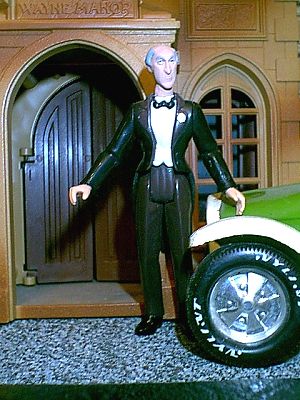 Alfred was another custom inspired by someone else. Charlie Jackam used the same head, & Ken Goach used the body, but I can't remember who, if anyone, has put them together. Anyway, we are very happy with this figure, especially since it was so little work: just a headswap, a little dremeling on the hair, a little plumber's putty to fill out the cheeks, and then repainting the head.

Interestingly, I just saw that Hasbro is FINALLY putting out a real Alfred figure. About friggin' time, but too, too late for me. I may not get the official version since, like I said, I'm quite happy with this one.

Parts Used:
Links in this table will connect you to customs made from other parts of same figure.
---
See Also: Batman Family