Western Kentucky University
Department of English
Welcome to Ted Hovet's Webpage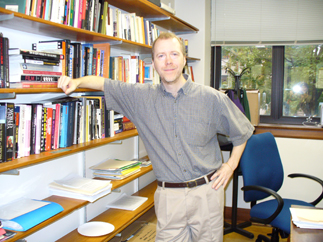 I received my Ph.D from Duke University in English with an emphasis on American Literature and Film Studies. I came to WKU in 1995 and am now an Associate Professor of English and director of the Film Studies minor. I teach composition, American studies, film history, and film theory. I especially enjoy opportunities to team-teach and to teach in interdisciplinary settings.
On the scholarly side of things, I do research in early cinema, historical fiction, and pedagogy. I am also the co-managing editor of rWp: An Annual of Robert Penn Warren Studies.
I have been co-advisor of the WKU English Club since 1997. In 2002, I founded the WKU Undergraduate Literature Conference, an annual event that features original critical essays on literature written by WKU students.
For more information on the Film Studies minor, click here
For more information on the English Club, click here
For more information on the Warren Annual, click here
For more information on the Undergraduate Literature Conference, click here
Click Here to read more
[ Education ] [ Employment ] [ Publications ] [ Courses Taught ] [ Vita ] [ Membership ] [ Contact ]
[ English Department Page ] [ WKU Home Page ] [ Useful Links ]