Trephination (aka Trepanation)
---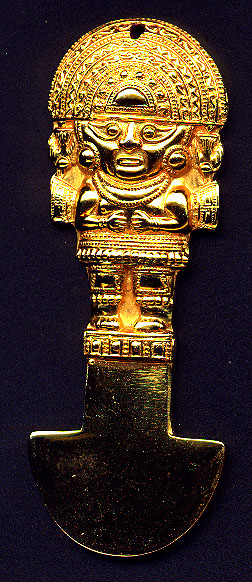 The Good Old Days
Trephination (or trepanation) is an operation performed since Stone Age times (though far less frequently these days) in which a circular section of the skull is carved away, leaving a hole in the skull. It is speculated that the operation was done as a treatment for abnormal behavior, such as hallucinations or was done based on a perception that there were evil spirits that needed releasing.
Or maybe it was done just to relieve pressure from a head injury. In any event, individuals having this done survived as evidence by bone growth around the wound. The tool used to cut through the bone was likely a "chert (or less likely obsidian) tool" according to Dr. Harry Shafer, an expert in Mesoamerican archeology at Texas A&M University.
For more information about cherts try either the Center for American Archaeology Repository and Museum (http://www.d158.s-cook.k12.il.us/Lansing/resposit.htm) or the Museum of Science, Boston (http://www.mos.org/ed/bigdigarch/specisl/specisl05.html)
Lacking a picture of a chert, I chose to display this picture of an attractive object which I purchased at a Peruvian art exhibit. It was advertised as a reproduction of a trephination knife. According to Dr. Shafer, it likely is not actually a trephination knife.
But it is pretty.
I'm told trephination was also performed in ancient Egypt and more information can be obtained in this book: Nunn, John F. Ancient Egyptian Medicine. Norman, OK: University of Oklahoma Press, 1996. ISBN: 0806128313.
Modern Day Trephination
Even trephination gets its 15 minutes of fame these days. A TV documentary show (20/20) aired a segment on February 10, 2000, about the modern practice of trepanation. And the Washington Post has an article on-line from May 31, 1998 (http://jobs.washingtonpost.com/wp-srv/style/features/trepan.htm). There is an organization, The International Trepanation Advocacy Group, that advocates the use (http://www.trepan.com/).
My providing the website is in NO way an expression of support for their point of view. Their information about brain functioning is flawed, for example. I'm a clinical psychologist-- posting the site is a reflection of my interest in the things people do. Read the news article to get some ideas of the problems it produces.
---
---
Contact the author with comments or questions about this site by following the directions at this page (which will open in a new window.)
All contents © since 1996 by Sally Kuhlenschmidt. Copy only with permission.
Website created: June 1996. Page Created: c1997; Last Modified: September 18, 2000.