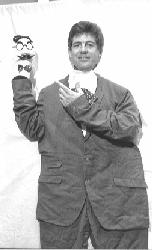 was composed and premiered in 1988. The work is a pastiche of musical experiences, fantasies and satires dealing with serious concert music, rock, rap, high and low art, church music, the avant garde, jazz and opera itself. In the finale, a backdrop with clothes attached is used to portray different characters via face and arms holes.
Michael Kallstrom was an invited recitalist for the Southwest International Contemporary Music Festival where he sang STAINED LIGHT. It has also been filmed by a Tennessee Public Television station and has now been given over thirty performances, including: Electronic Music Live (Pittsburgh, PA), Composers Resources (Atlanta, GA), and the Rocky Mountain Avalanche Electronic Music Festival (Denver, CO).





---


In ACT ONE, the seven numbers include:

"Overture and Prologue" -the chasm between performer and audience created by the formality of the serious concert setting.

"Remember" - past and present patrons of the arts and the situation of the composer.

"Recitative and Aria" - pokes fun at opera singers and questions the grants-oriented nature of the arts today.

"In Silence" - a meditation on music.

"White Noise" - preceded by a videotape projection, this section is a fantasy on modern, electronic technology and the "electric" nature of art.

"Stained Light" - a reflection on years spent earning a living by playing in nightclubs. "Hear Our Prayer" - a meditation on fondly remembered music in the church with a videotape projection.



ACT TWO features four numbers:

"Crystallomancy" - a satire of the avant-garde with videotape projection.

"Different Rhythms" - rock music and high art in conflict.

"Each Moment I Compose" - an "impressionistic" ballad inspired by jazz.

"Opera and Grand Finale" -a "modern" opera featuring life-size backdrop puppets.

---
Back to ELECTRIC OPERA homepage