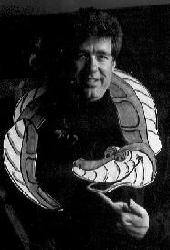 was composed and premiered in 1990 and has been performed for a three-day residency at Ball State University, the Florida State University Festival of New Music, Ohio University, at the University of Illinois for the Society of Electro-Acoustic Music in the United States, the College Music Society, and for the Banners Cultural Series in Louisiana.












---
The work, featuring amplified and digitally processed voice and video projections, is a musical fantasy on the Biblical account of Jonah in the belly of the leviathan and is presented in five sections:
"Prelude" - for live synthesizer or electronic tape alone.
"The Tempest" - Jonah's maritime flight from the will of God. He is cast overboard as an appeasement to the storm which threatens his ship. Texts are drawn from the King James Bible, and freely paraphrased and created texts by the composer.
"The Descent" - Jonah's descent into the depths of the ocean, and his separation from God, is depicted. Video projections are featured in this section and the voice is amplified and processed using a wireless microphone and effects processor.
"The Abyss" - A bleak musical representation of Jonah's despair, also using amplified voice
and video projections.
"The Supplication" - Jonah's prayer for re-unification with God and His commands.
The two central video sections were created by the composer's brother, Daniel Kallstrom, who currently resides in Canada.
---
Back to ELECTRIC OPERA homepage