Fulbright Involvement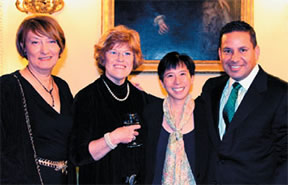 US Alumni Mary Sue Ellinger, Dr Patricia Lin, Dr. Judy Davison and Joe Montes at the celebration of the 60th anniversary of the agreement between the United Kingdom and the United States Fulbright Organization (Sep. 2008)
Ireland Alumni Fulbright Gathering, July, 2013
Dr. Davison was invited due to her appointment as a Senior Specialist Scholar at the National College of Ireland in Fall, 2007. She attended the various events which culminated with a black tie celebration at Dublin Castle.
UK/US 60th Anniversary Celebration, September, 2008
Dr. Davison was one of ten faculty members in the United States selected from over 27,000 Fulbright Alumni to celebrate the 60th anniversary of the agreement between the United Kingdom and the United States Fulbright Organizations. The event was hosted by Prime Minister, Gordon Brown at 10 Downing Street, London. Dr. Davison was a 2004 Fulbright Senior Specialist Scholar at the University of Greenwich in London.
Dr. Davison served as a Fulbright Senior Specialist from 2002-2007. She was an invited panelist and presenter at the 2006 Annual Fulbright Alumni Conference in Morocco. She shared experiences from her appointment at the University of Greenwich, London, along with 4 other Fulbrighters representing 4 different countries.
Related Links
Photo Gallery
Fulbright Sr. Specialist Appointment NCI, 2007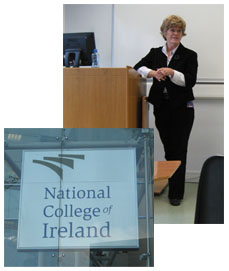 Dr. Davison conducted professional development workshops for NCI (
National College of Ireland
) faculty in Dublin, Ireland in October 2007. The workshops were a part of a Fulbright appointment to NIC.
International Fulbright Conference, 2006, Morocco

Fulbright Alumni Conference Presentation/Panel - November 2006, Morocco
Dr. Davison also had a Fulbright Sr. Specialist Appointment in 2004 at the University of Greenwich, London, England. This appointment was in collaboration with Dr. Pam Maras