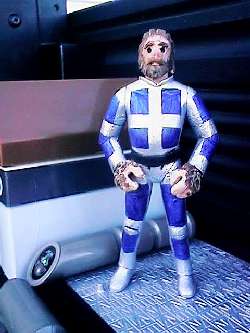 My Tellarite was made based on the work of Sue at Final Frontiers, the one-time #1 webstore for Trek figures. It was a sad day when that site went down :-(

Anyway, this pig-snouted guy is made from a ST Traveler figure. He worked nicely, especially because he already had 3-fingered hands. His jumpsuit, however, was highly textured, so I filled in the pattern with contour putty. Then I added his belly using the same putty, tediously building it up one layer at a time. Finally, I sculpted the head, being careful as always to keep the eyes as visible as possible. For the head modifications I used -- you guessed it -- contour putty.

In fact, I really used up mucho contour putty on this figure -- even using it for the fur on the backs of his hands. Yup, back when I started customizing Trek figures, the only real clay/putty tool I had was Testor's contour putty. I think I got pretty good at sculpting with the stuff, but I'm glad I've moved on to better media.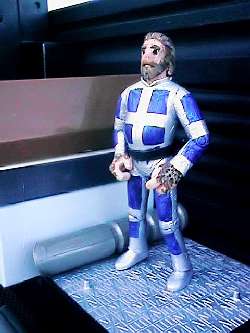 This was the first figure on which I used masking techniques to aid in painting straight lines. It worked fairly nicely, although I had to spend quite a bit of time taping that pattern on him (and quite a bit of time with my VCR on pause so I could see what it actually looked like).
Parts Used:
| | |
| --- | --- |
| Base figure: | ST Traveller |
| Belt: | Rubber band |
| Other stuff: | Contour putty |
Links in this table will connect you to customs made from other parts of same figure.
---
Featured at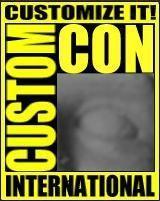 Custom Toy Fair 1999