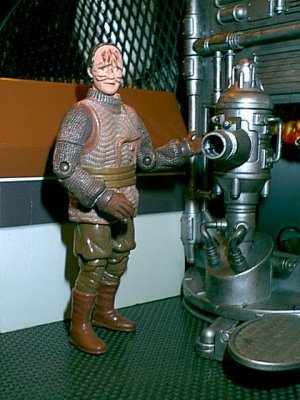 I think I first saw a Pakled at the late SpotsNCo website. It hadn't occurred to me that the Pakleds wore the exact same outfits as the Lore action figure (I think actually in the show Lore wore a Pakled costume, but Lore was the figure that got made).

I didn't do all that much to this guy. I sculpted a bit on his head and that's all. But a strange thing happened when I was boiling the sculpey -- the rest of the figure turned white. Well, not totally white, but a white film covered the whole thing. I washed most of it off, although a bit still shows. But I decided against repainting him because it doesn't look bad enough to go through all the hassle, and it makes him a wee bit different from Lore (who isn't even in my collection, so it doesn't matter anyway).
Parts Used:
| | |
| --- | --- |
| Base figure: | Lore |
| Head modifications: | Super Sculpey |
Links in this table will connect you to customs made from other parts of same figure.

---
Featured at