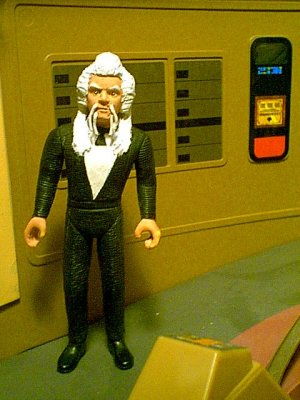 The nameless Efrosian President appeared in ST:IV. He's one of my favorite Trek aliens for some strange reason. Perhaps it's because he was played by the extremely underrated actor Kurtwood Smith (currently seen as the father on "That 70s Show").

This figure was one of the more difficult for me, mostly because I wanted to keep his moustaches and hair fairly light and flowing, an effect I've still been unable to master with Sculpey. So in the end, I simply left the armature wires that I'd glued into the face, painted them white and was done with it. I don't think I could have done any better through sculpting. Not yet, anyway.
Parts Used:
| | |
| --- | --- |
| Base figure: | Soren (ST: Generations) |
| Hair: | Super Sculpey |
| Moustaches: | small paperclip wire |
Links in this table will connect you to customs made from other parts of same figure.

---
Featured at