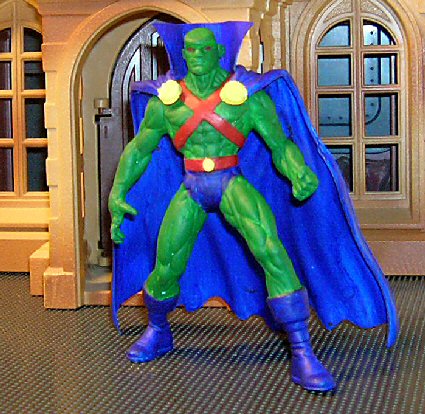 It's time to go back, way back, back to the day's of Chris Galdieri's Scratchbuilder's Toolbox column. That's where I first saw this custom, and in the days of the limited TJ figures, it was inspired.

He was one of the first customs Chip and I ever tried, and we were pretty pleased with how he was turning out, but unfortunately, before I ever got his cape to work, Hasbro released their own Martian Manhunter figure, making ours feel moot.

Doing some clean-up of custom central recently, I found several unfinished customs, this one among them. He looked so sad, laying there 90% finished, but still not among his peers on this website. So I decided to go ahead and polish him up, finish the cape, and get him on the web. If I remember who did what correctly, Chip cut off Hawkman's wings and hair, sculpted a brow, and trimmed down the circular chest symbol and boots, while I did the painting and building the cape collar.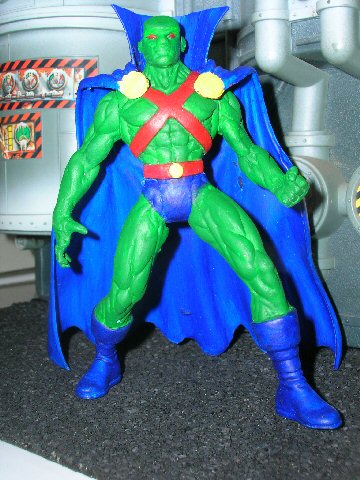 Parts Used:
| | |
| --- | --- |
| Base figure: | TJ Hawkman |
| Cape: | Some Tarzan |
| Collar: | Cardboard |
Links in this table will connect you to customs made from other parts of same figure.
---