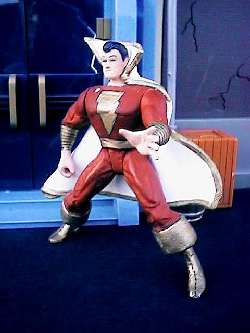 The good Cap'n is made from a Buccaneer Batman, while his head is from a B&R Two-Face. Using a dremel, I sanded down the many straps and bat-symbols on Batman's body, and then I used Sculpey to form his chest flap and his boot cuffs.

Once I swapped the heads, I realized that Twoface's neck-peg is longer than the hole in the Batman's body. I eventually had to attach the head with superglue. I sanded the rough side of Twoface's head, and then used contour putty to broaden his jaw and to fluff his hair a bit. After a while, I was unhappy with his mouth, so I filled it in completely with contour putty and re-carved it. This turned out to be the most difficult part of this custom.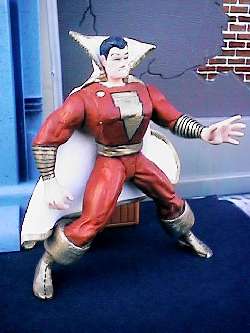 The figure was painted with red, gold and flesh-colored acrylic paints. Although some small lines on his wristbands and the outlining around his lightning were initially drawn with an ink pen, I had to go back over every one of them with a paintbrush... a very small paintbrush.
Using Chris G's Scratchbuilder's recipe as a starting point, the cape was made with Crayola Model Magic and gold elastic cording. I rolled some Model Magic out with a rolling pin and cut out a cape shape. Then, I cut out a separate collar shape. Next, I lightly moistened the two pieces (moist Model Magic sticks better than dry), took a twist-tie, and sandwiched it in between the two pieces. I had to put a little pressure on the pieces to make them stick together, but it worked.
I twisted the tie together to hold the cape on his neck until it dried. Before it completely dried, I shaped the cape into a more flowing pose, and then set him aside to finish drying. Once dry, I trimmed off the twist-tie, sprayed the cape with my white primer, and painted the gold trim with acrylics.

Parts Used:
| | |
| --- | --- |
| Body: | Buccaneer Batman |
| Head: | B&R Two-Face |
| Cape: | Model Magic & twist ties |
| Ches flap and boot cuffs: | elastic craft cording |
Links in this table will connect you to customs made from other parts of same figure.
---
Featured at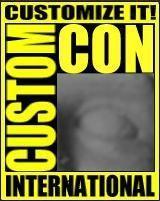 Custom Toy Fair 1999