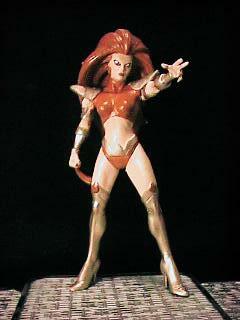 While looking through old issues of Extreme Justice for reference pics of Blue Beetle, Booster Gold and Firestorm, I came across an image of Maxima in one of her many costumes. The picture seemed somewhat familiar, and it finally struck me... she was wearing the same costume as the Robot Wars Storm figure. They even had the same hairstyle -- that Image-like swoopy hair Maxima was drawn with in Extreme Justice. Since I just happened to have a Robot Wars Storm lying around, and since I had no other plans for it, I decided to use this figure as practice for painting. After all, I couldn't let Chip do all the painting forever, could I?

I did make a few minor alterations to Storm: using contour putty, I added a band for her gauntlets, gems on her boots, earrings to cover Storm's lightning earrings, and a small triangle detail on her waistband. Using Crayola Model Magic, I added shoulder pads. Very little work, really.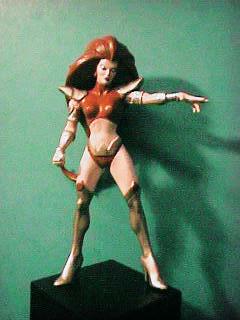 Then, I primed her and began painting. My first lesson: It's much easier to remove Storm's head before trying to paint around it. And since she can't move her head thanks to that Image-hair, she won't loose any articulation. My second lesson: Paint sticks much better to figures that have been sanded. So, anyway, she was painted with red, gold and skin-colored acrylic paints, with the details accentuated with a brown wash.
Parts Used:
| | |
| --- | --- |
| Base figure: | Robot Wars Storm |
| Shouder pads: | Model Magic |
| Bracelets, Belt, boot gems: | Sculpey |
Links in this table will connect you to customs made from other parts of same figure.
---