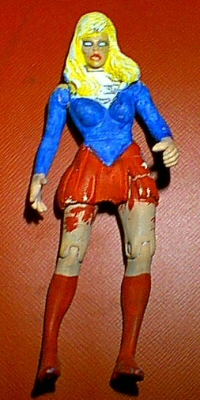 I found this mutant figure recently while cleaning, and before throwing her away I decided to snap a photo so I could put her up in the custom graveyard.

Ever since Peter David turned Supergirl into a firey angel, I decided that the Deathbird body I'd already seen used for Supergirl customs by others would be perfect for a figure with both a cape and firey wings. She was actually one of the first super hero customs I attempted, and she was my very first use of sculpey, although at that point I was sculpting hair instead of breasts (which I'll get to in a minute).

I was very nervous about baking a figure, but I tried it anyway. I'd gotten much advice telling me how to bake sculpey -- warning me to use a lower-than-recommended tempature, use several short exposures in the oven, and even wrap her in water and aluminium foil (which I couldn't bring myself to do for fear she'd cook like a baked potato). I checked on her frequently, but in the end, she shrivelled up like a tiny mutant freak with stubby fingers, bent legs, a collapsed waist and a swayed back (and I've since swore off curing sculpey in the oven).

Even though I knew this figure would never see the light of day I went ahead with a few things just so I'd know how they'd work out when I made my second attempt. I sculpted a skirt out of Model Magic to see how that material would work (answer: not well, too brittle), and I did a VERY rough paint job just to see how things would look. I was most concerned with the "S" shield on her chest, and what I saw here lead to the breast augmentation on my second attempt. Overall I didn't think the hair I sculpted was bad, but I'm much happier with the Huntress hair I used later.

My second attempt, nearly a year later, looks much better. Check her out here.

Parts Used:
| | |
| --- | --- |
| Body and head: | Ninja Deathbird |
| Hair: | SuperSculpey |
Links in this table will connect you to customs made from other parts of same figure.
---