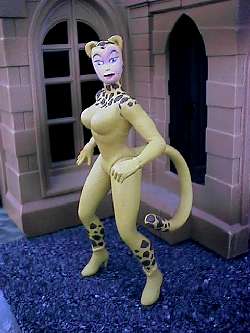 For my birthday last year Chip gave me a Princess What's-Her-Name, but she sat in the closet for a long time because I couldn't figure out who to make out of her. Then one day while looking at pictures of the old Super Friends arch villains, the Legion of Doom, it hit me -- the Cheetah. It seemed like it would be a pretty easy custom.

But I forgot about the ears and tail. I decided to try to make a bendable tail, and when I realized that the aquarium tubing was the right size, I started looking for some flexible wire to make it poseable. I settled on the twist-tie wire that holds so many Star Wars toys in place in the packaging -- you know, the ones that make you curse, "what, don't they expect people to open their toys anymore?"

I took three wires and twisted them all together for added strength. Then, I dremmeled a hole in the Cheetah's butt and glued the wires in place (gosh, that sounds bad). After the glue set, I threaded the tubing on the wire and glued it into place on her butt, as well. Finally, I put some plumbers putty on the tip to round it off.

I made her ears from plumber's putty, and they weren't very difficult at all. I did, however, have to superglue them in place -- they fell right off the moment they cured.

I repositioned her left hand with boiling water. It was originally posed to hold a gun, so I just twisted it around a bit until it looked more like she was clawing. Well, that's what I want it to look like anyway.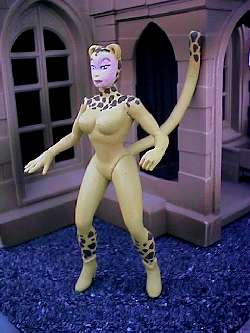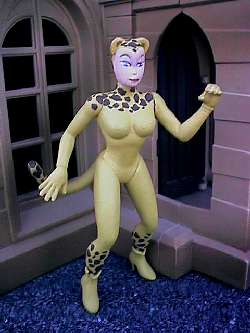 Parts Used:
| | |
| --- | --- |
| Base figure: | Princess What's-her- Name |
| Ears: | Plumber's putty |
| Tail: | Wire, aquarium tubing, and plumber's putty |
Links in this table will connect you to customs made from other parts of same figure.
---