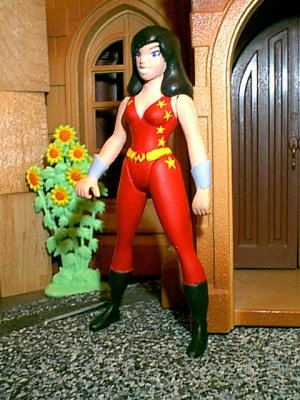 Even though I'd planned on using a different base for this figure, when it came time to put paint to figure I realized that the Batgirl would make a much better base. The old base I'd planned on using (Dale Arden) was much too tall to use in conjunction with my other chosen Titans bases.

Very little effort was required for this figure. I cut the ears off her cowl and I delicately cut the cape off, making sure to leave the hair intact.

Then, I sanded down the mask lines. Next I lengthened her boots and sculpted more hair, blending the new into the old. A quick boiling and sanding and then it was just paint.

I chose to leave Batgirl's oval belt buckle intact and simply painted the "W" right over it. I think it worked nicely since the "W" I painted conforms nicely to the oval's shape. I also chose to paint her bracelets a light blue/grey color. I've decided to use metallic paints in my ADCU customs sparingly, and here I think the metallic colors would distract from the look of the final figure.

This was probably the hardest part due to the colors in her costume (red and yellow can sometimes take several coats to get smooth even coverage) and the small stars on it. In the end I chose to reduce the number of stars while enlarging them, making them easier to paint. I think stylistically the larger stars fits in nicely with the animated sensibilities. Finally, Chip helped finish painting the eyes.

Although making this figure meant using my last spare Batgirl, I'm still very pleased with her and I'm very happy I chose to use this base.

Parts Used:
| | |
| --- | --- |
| Base figure: | Wind Blitz Batgirl |
| Hair & Upper boots: | Sculpey |
Links in this table will connect you to customs made from other parts of same figure.
---
See Also: Teen Titans
New Teen Titans