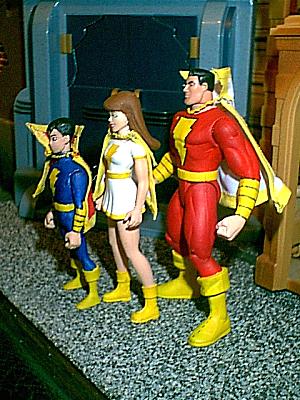 The Marvels are really a really great family to have. The most difficult thing about these figures, and the thing that kept me from putting them up on the web when we finished them all those months ago, was the capes. There just aren't that many cape options out there for animated style figures, and so these figures sat capeless in my almost-finished box.
Chip suggested, since we're using the cloth-caped versions of Batman and Superman for those characters, that I make cloth capes for these guys, as well.
So when CustomCon2000 rolled around, I finally got the nerve to try a cape. I started with ideas I'd originally read in Leslie Hancock's How to Make Poseable Capes article. I changed things up a bit (all the capes I was making had borders, so I used single thickness cloth while inserting the wire in the bias borders). I made CM3's cape, which was very tiny and difficult to handle.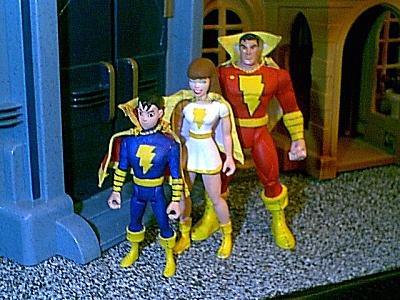 After working on his cape, I figured the others would be much easier. Well, they would have been had I not waited three more months before starting them. I basically had to re-learn how best to handle the materials, but at least it didn't take as long.


Family
Members:
---
Captain Marvel
Mary Marvel
CM3