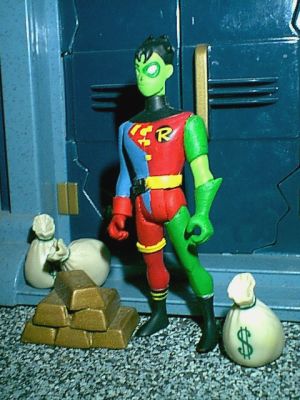 Recently Impulse battled a bottle of green protoplasm which got into the Young Justice computers and took on the powers of the team, while taking on the strange appearance of a half-Superboy/half-Robin character. In fact, he looked identical to a silver-age villian, the Composite Superman (hence the new name -- "Cradyl" just didn't cut it).

I started this custom after a long glut of not being motivated to customize. Some advice I received from the customizing listserv was to make a easy figure, a repaint. Well, although this ended up being slightly more work than a repaint (several lines had to be filled, as well as a few rubber bands had to be glued), it did serve to get me off my butt and get started on something.

Too bad I couldn't finish it. After doing most of the grunt work and the first coat of paint, I never did find the time to go back and finish him. Thankfully, Chip picked him up one evening and did all the detailed painting that I'd missed.

Parts Used:
| | |
| --- | --- |
| Base figure: | Crime Fighter Robin |
| Cuffs and straps: | Rubber Bands |
Links in this table will connect you to customs made from other parts of same figure.
---
This custom featured at


---