---
ANTH 336 New World Prehistory
Dr. Darlene Applegate
Fall 2006
Andean South America Culture Area
Chimu State
---




TIME PERIOD



AD 100 - 1476

Second Intermediate Period




LOCATION



northern coast of Peru

centered in Moche Valley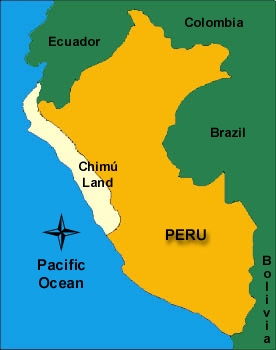 Map Showing the Location of the Chimu Civilization.


http://www.go2peru.com/webapp/ilatintravel/articulo.jsp?cod=1998824






ORIGINS



rooted in previous Moche civilization?




SUBSISTENCE



agriculture based on very extensive, large-scale irrigation

unique use of sunken agricultural fields

use of marine resources




DIAGNOSTIC ARTIFACTS



renowned for metal working skills and artistry

well-developed textile industry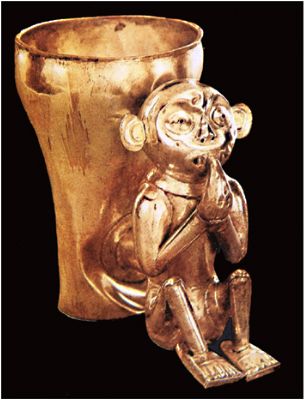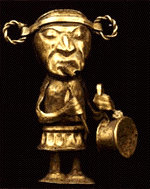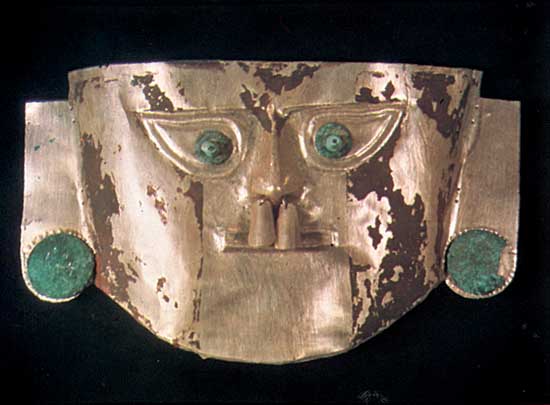 Chimu Metal Objects: (Left) Gold Monkey Vessel, (Center) Gold Musician Statue,
and (Right) Gold-Silver Alloy Death Mask with Copper Ears and Eyes.
http://www.peru-explorer.com/PERU-EXPLORER.2002/peru_travel_center/chimu.jpg
http://www.abc-latina.com/civilisations/chimu.htm
http://www.britannica.com/eb/art-4764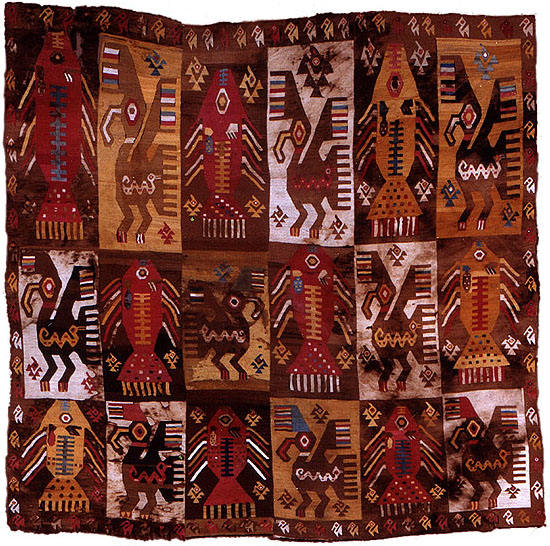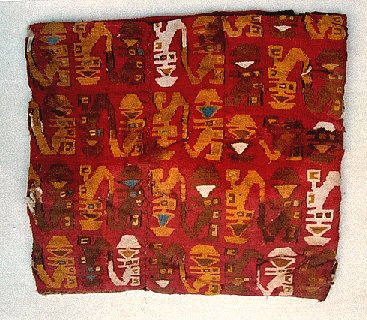 Chimu Textiles: (Left) Mantle with Bird and Tuna Motifs and (Right) Textile with Feline Motifs.
http://www.textilearts.com/precolumbian/15533pc.html
http://exchanges.state.gov/culprop/1peru/fi/00000000.htm




SETTLEMENT STRATEGY

regional system of low population densities

rural sites evenly distributed around capital city

provincial administrative centers linked to capital by roads




SITES



Chan Chan - capital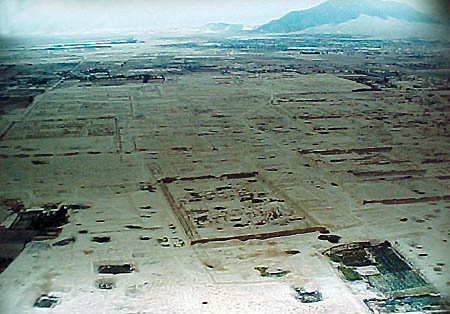 Aerial Photograph of Chan Chan, the Capital of the Chimu Civilization.
http://www.go2peru.com/webapp/ilatintravel/articulo.jsp?cod=1998824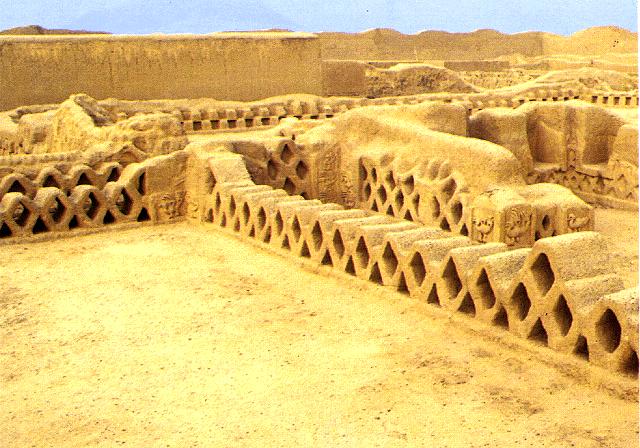 Adobe Walls with Open Weave and Bird Decorative Elements at Chan Chan.

http://www.textilearts.com/precolumbian/15533pc.html





SOCIO-POLITICAL ORGANIZATION



very rigid social classes of three tiers

top-heavy political organization

new rulers built own palaces and raised own finances

used the practice of resettling conquered peoples in order to administer the state


DECLINE

vulnerable to drought due to heavy reliance on irrigation agriculture

vulnerable to outside attack

top-heavy bureaucracy over-stretched resources, as did fund-raising by each ruler



---
Return to Unit 4 Web Notes Listing
Return to New World Prehistory Home Page

---
Visit the Western Kentucky University Home Page, Western Online
Page composed by Darlene Applegate, darlene.applegate@wku.edu
Last updated on December 5, 2006
All contents copyright (c), 2006. Western Kentucky University.