---
ANTH 336 New World Prehistory
Dr. Darlene Applegate
Fall 2006
Mesoamerica Culture Area
Teotihuacan Civilization
---

Teotihuacan is the name of a complex society and an archaeological site.




TIME PERIOD



Classic Period
AD 0 - 650




LOCATION



central highlands of Mexico, east side of Valley of Mexico
<>


<>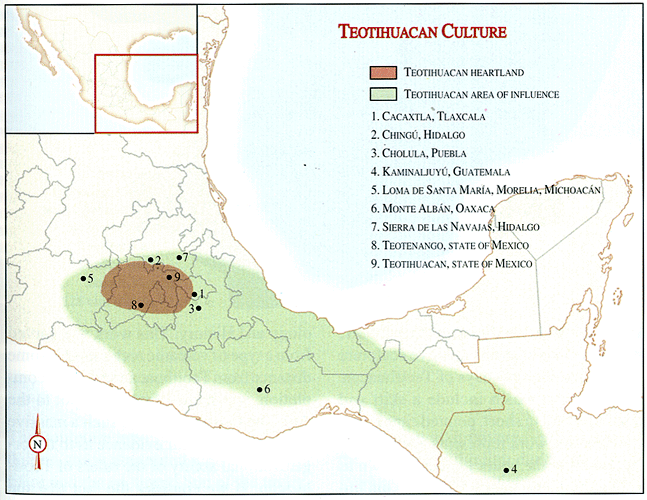 <>

<>Map Showing Location of Teotihuacan Heartland and Sphere of Influence. The Site of Teotihuacan
<>

<>is #9 on the Map. http://www.latinamericanstudies.org/teot.htm
<>





ORIGINS



development of complex society from indigenous groups, probably related to control of long-distance exchange networks and agricultural surpluses




SUBSISTENCE



agricultural system based on chinampas, canal irrigation, and pot irrigation




DIAGNOSTIC ARTIFACTS



slope and panel (a.k.a. talud y tablero) architecture



unique form of architecture in which stepped pyramid levels arose at an angle (slope, talud) and were faced with vertical panels (tablero)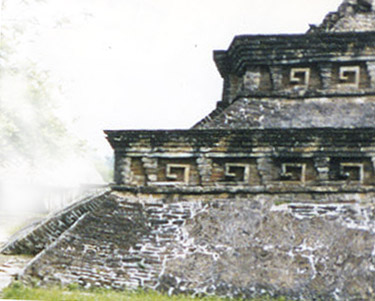 Drawing and Example of Slope and Panel

Architecture El Tajin, Mexico.

http://www.hal-pc.org/~dasmith/tajin/buildings.html


thin orange pottery vessels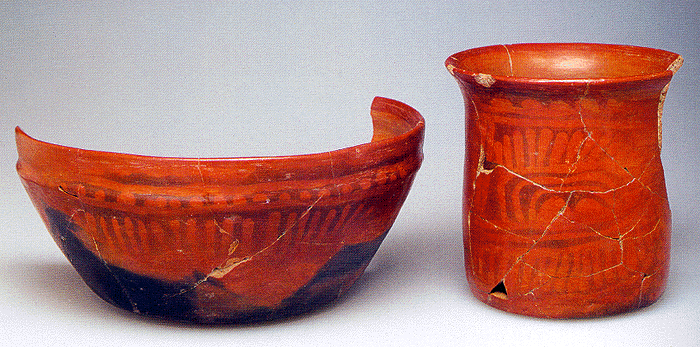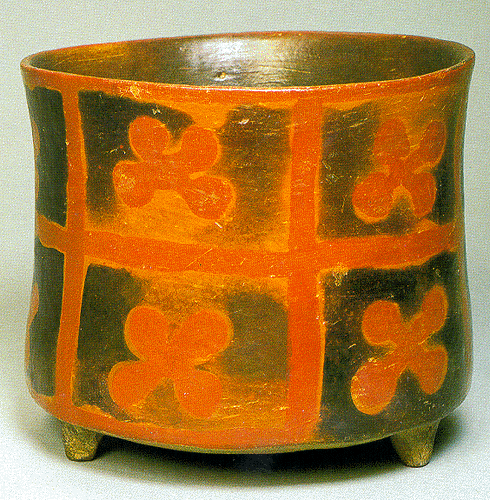 http://www.latinamericanstudies.org/teotihuacan-ceramics.htm





SETTLEMENT STRATEGY



settlement pattern included habitation sites in valley floor

settlement system included ceremonial centers surrounded by dispersed farming settlements of various sizes




SITES



Teotihuacan



occupied from about 100 BC to AD 750

at its height, the site covered over 11 sq miles and had a population of 150,000-250,000

planned city, with major structures arranged around Avenue of the Dead

multiroom compounds for domestic structures

the Pyramid of the Sun and the Pyramid of the Moon are two main monumental public buildings; the former was built over a cave (though it may be a man-made passageway instead)

local obsidian source was source of wealth and was trade over long distances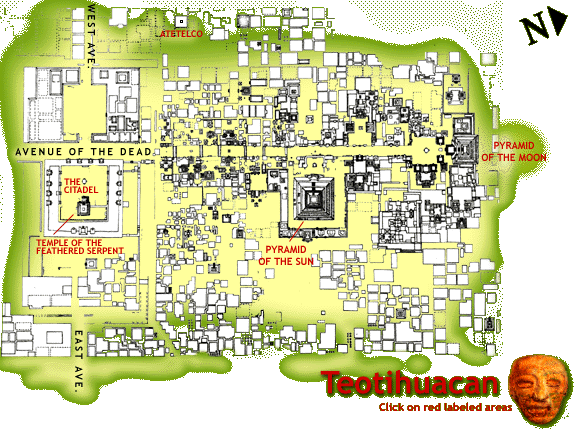 Map of the Ceremonial Complex at Teotihuacan. http://www.latinamericanstudies.org/teot.htm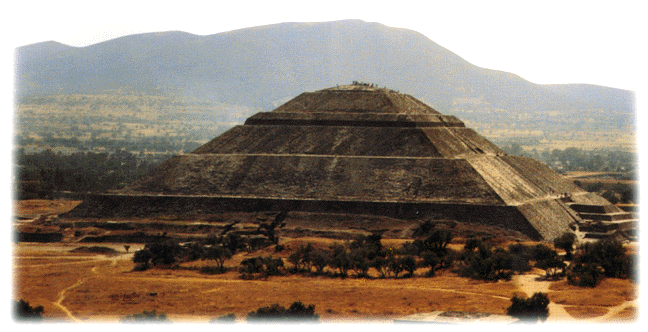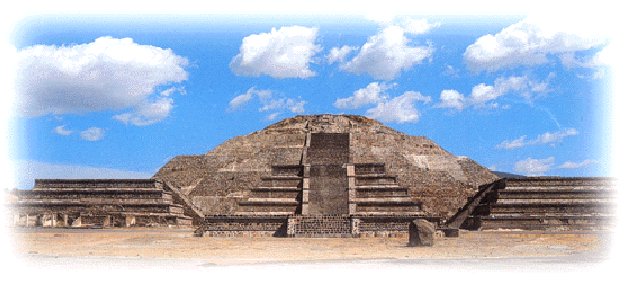 (Left) Pyramid of the Sun and (Right) Pyramid of the Moon at the Site of Teotihuacan. Note Slope-and-Panel Architecture in Both Pyramids,
and Stairs on Pyramid of the Moon. http://www.latinamericanstudies.org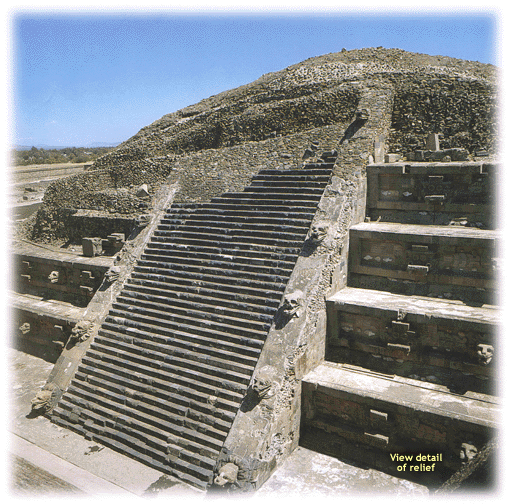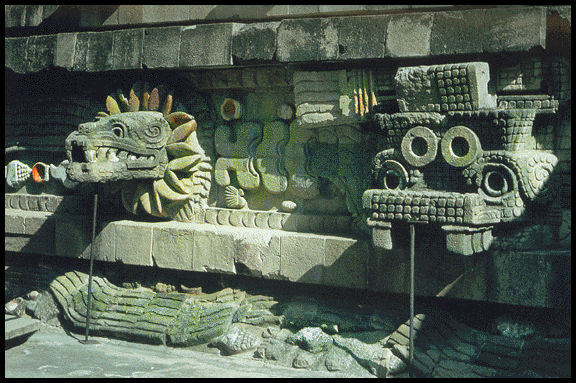 (Left) Temple of the Feathered Serpent at Teotihuacan and (Right) Detail of Facade. http://www.latinamericanstudies.org


other sites in the Teotihuacan heartland are Cuiculco, Xi'o, Tenayuca, Zumpango




POLITICAL ORGANIZATION



probably a theocracy




DECLINE



collapsed under own weight of the bureaucracy, plus loss of control of trade

depopulation of city to rural settlements

collapse followed by regionalization of political influence (no single political leader)



---
Return to New World Prehistory Home Page

---
Visit the Western Kentucky University Home Page, Western Online
Page composed by Darlene Applegate, darlene.applegate@wku.edu
Last updated on November 10, 2006
All contents copyright (c), 2006. Western Kentucky University.