Summer 2010
Economics - Sociology Study Abroad Program
Amsterdam, The Netherlands
July 14 - August 6
Economics 410 Efficient Markets in the Low Countries: Sex, Drugs, Rocks, and Flowers
or
Sociology489 Deviant Behavior -- Amsterdam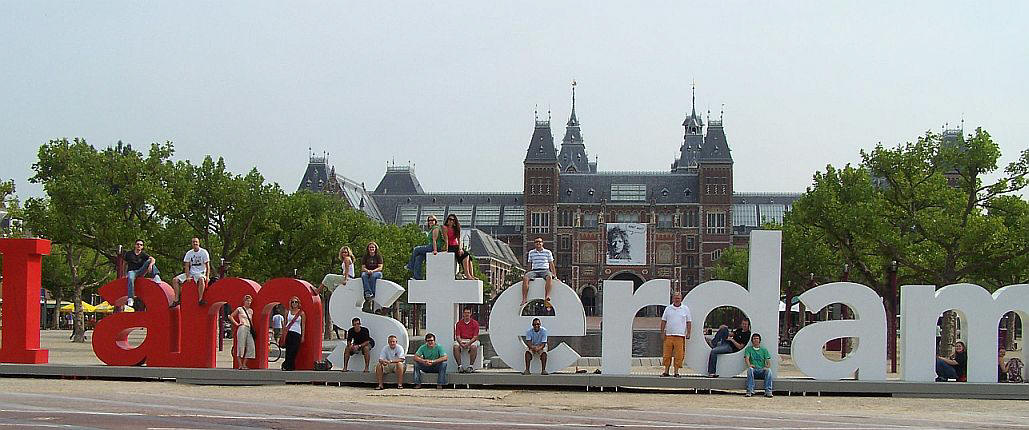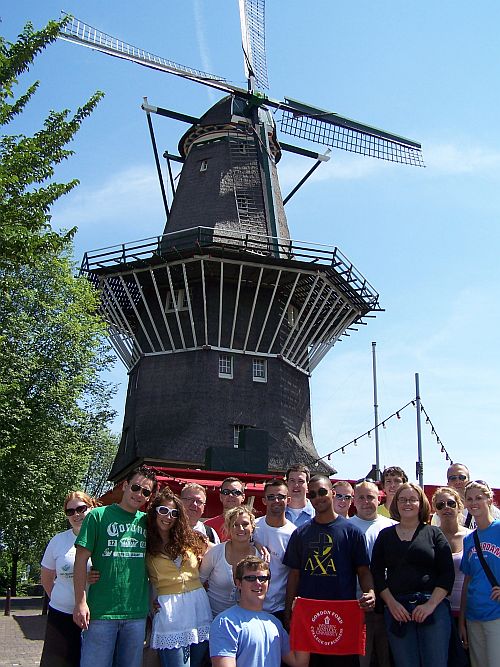 Economics 410 Efficient Markets in the Low Countries
This course will focus on economic markets. The Low Countries (The Netherlands, Belgium, and Luxembourg) offer a unique opportunity to study the diamond and flower markets, both of which are centered in the Netherlands and Belgium. The diamond market is largely oligopolistic, and the flower market is competitive. In addition, we will study prostitution and drugs -- markets that, due to social legislation, do not function openly in the United States and due to regulation in the Netherlands operate in markets of imperfect competition. We will also explore the workings of the European Union as a social and an economic institution. Students completing the course will (1) have a heightened awareness of markets and how they work; (2) better understand social legislation in the economic markets; (3) better understand how cultural differences affect international business; and (4) have a better understanding of the EU and how common currency and the free flow of labor affects the economies of Europe and the individual member countries.
Sociology 489 Deviant Behavior -- Amsterdam
Courses in social deviance examine how groups define certain behaviors, beliefs, and conditions as violations of group norms. Those who violate group norms are considered deviants or outsiders and are subject to both stigmatization and negative sanctions. Norms however vary overtime, cross-culturally, and among subcultures within a given society. Thus the nature of deviance is dynamic rather than static. Amsterdam, a cosmopolitan, world-class city has a long history of tolerance toward many behaviors and lifestyles that are considered deviant by many social groups. With its red light district, coffee shops, Anne Frank House, and needle exchange program, Amsterdam provides a unique, natural setting to study social deviance.
Academic and Cultural Program in Amsterdam, the Netherlands.
Cultural outings
The Van Gough museum. See original paintings of Van Gough, Gauguin, Manet, Monet, Toulouse La-Lautrec, others.

The Rijksmuseum. Contains twenty Rembrandts and works of other Dutch Masters.

The Anne Frank House. Visit the house where the Frank family hid from the Nazis during World War II. Special tour and lecture.

Rembrandt House Museum. Housed in the home of Rembrandt van Rijn, the Rembrandt House Museum recently celebrated the 400th birthday of the noted painter. The museum contains an extensive collection of Rembrandt's etchings along with the works of many of his contemporaries.

Canal Tour of Amsterdam

Bike Tour of Amsterdam, including highlights on the history of Amsterdam, and important sociological and economic facts.
Joint Academic Field Trips
Prostitution Information Center. Founded in 1994 by a former prostitute, the PIC provides information and advice about prostitution to anyone who has questions. The visit will include a lecture and guided tour of the red light district.

Needle exchange visit and lecture.

Hash, Marijuana, and Hemp Museum

European Union Headquarters. A trip, including an overnight stay, is planned to Brussels, Belgium, the home of the European Union. A lecture is planned by the staff of the EU.
Economics/BA Field Trips
Bloemen Veiling Aalsmeer. The Aalsmeer Flower Auction accounts for over forty-four percent of the world's flower and plant sales and sets the price of flowers and plants daily. The auction is housed in the largest commercial building in the world. The visit includes a guided tour of the flower auction and a lecture.

Diamond Factory Tour. Amsterdam is the home of many diamond cutting and mounting enterprises. We will visit one of these..
Sociology Field Trips
Weekends. Travel opportunities are available on two weekends, and students may extend their stay beyond the end of the class (with additional cost). Classes will end no later than noon on Friday, allowing independent student travel. Locations easily reached by train or low cost air include:
Frequently Asked Questions
What is the cost?

The estimated cost is $3,500 excluding meals. This includes round-trip air transportation from Nashville to Amsterdam, housing, local transportation in Amsterdam (bus-subway-tram pass), entrance fees to required programs, and three hours credit. The final cost depends on the cost of air fare and exchange rates when final arrangements are made.

Where will we stay?

Housing is in dormitories at the University of Amsterdam. Students will share apartments with other WKU students.

When do I have to pay?

A $250 non-refundable deposit is due with your application This reserves your space on the trip. A payment of $750 (total $1,000) is due by March 15. A payment of $1,000 (total $2,000) is due on April 15. The balance is due June 1.

If I cannot attend, may I get a refund?

A full refund (including the $250 deposit) will be given if the program is cancelled or if the cost of the program exceeds the estimated cost at the time of your acceptance. For other withdrawals, refunds will be given in the following amounts (total due less $250 deposit less actual expenses incurred). 75% refund through March 15. 50% refund March 15 - May 23. 25% refund after May 23.

Does financial aid apply to this program?

This program is considered the same as any other academic term at WKU. Students eligible for student financial aid for the Summer Term may apply those funds towards this program.

Are scholarships available?

Western has a special scholarship for students participating in study abroad programs, the World Topper Scholarship. A link to the application is provided below. You need a letter of recommendation from a faculty member to be eligible, so have one faculty member provide one copy for the World Topper Scholarship and one for your application. The deadline for application is the Monday following Spring Break, but the earlier you apply the better.

How do I sign up?

Complete the application for the program (link found below or available in the Ford College of Business, Economics Department, Sociology Department, and Study Abroad Office). Return it, along with a letter of recommendation from a faculty member to the Gordon Ford College of Business, 445 Grise Hall or mail it to the address on the application.
Flight Information:
Depart Nashville on Wednesday, July 14 at 11:45 on Continental 2458
Arrive Houston on Wednesday, July 14 at 1:39 p.m.
Depart Houston on Wednesday, July 14 at 3:40 p.m. on Continental 58
Arrive Amsterdam on Thursday, July 15 at 8:20 a.m.
Depart Amsterdam on Friday, August 6 at 10:10 a.m. on Continental 59
Arrive Houston on Friday, August 6 at 1:50 p.m.
Depart Houston on Friday, August 6 at 3:25 p.m. on Continental 2474
Arrive Nashville on Friday, August 6 at 5:22 p.m.
Contact Information and course links
Forms